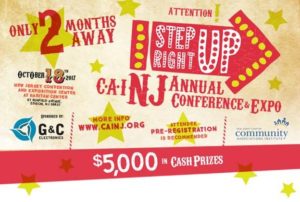 Horizons at Woods Landing, professionally managed by Association Advisors NJ, is the shining example for CAI's educational seminar, Collaborating with CAI – How an HOA Went from Ghost Town to Board of the Year at the CAI Conference and Expo.  The seminar is at 11:00 am at the Community Association Institute (CAI)Conference and Exposition on October 18, 2107, at the NJ Conference & Exposition Center in Raritan Center.
The Board of the Year Award is given to an outstanding community board that has demonstrated exceptional leadership and participation in conjunction with CAI's mission.
Dr. Kahrmann and Paul Raetsch, both from Horizons at Woods Landing, will discuss how their community was able to go from a developer's bankruptcy to an award-winning board by efficiently educating its volunteers and selecting the right vendors for their association.
Dr. Robert Kahrmann is a past treasurer of the Horizons at Woods Landing HOA;  a retired College Dean from Seton Hall University, the Academic Dean at the Pennsylvania Institute of Technology and the Enrollment Dean at Hudson County Community College. He holds a doctorate from New York University.
Paul Raetsch retired from a 42-year career in federal service. Mr. Raetsch moved  to southern New Jersey and served as president of the Horizons at Woods Landing HOA, located in Atlantic County. Mr. Raetsch, authored a CAI article in the form of a quiz entitled "What is LAC and Why Should I Care?" It is a quick and informative quiz for board members of common interest communities.
Horizons at Woods Landing has overcome many obstacles along the path to Board of the Year
Some of these obstacles include:
Ghost Town status
3 years to find a new developer to complete the community and its amenities
proper management of the community and its resources
controlling expenses and efficiently managing the budget
updating policies and resolutions to reflect CAI's recommendations. ADR, age restricted census requirements and board transparency were all part of CAI's recommendations.
The Horizons at Woods Landing board members have written several articles for Community Trends in 2016 and the annual shoot the cover contest was won by a board member in 2015.
Horizons at Woods Landing belongs to the CAI Pennsylvania & Delaware Valley and New Jersey Chapters. In 2015, Horizons at Woods Landing received the Gold Star Community award from the Pennsylvania & Delaware chapter.