Updated July, 2019
Gold Star Communities are highlighted in the current edition of Community Assets, the CAI-PADELVAL Chapter Magazine. As the industry knows, "Life is better in a Gold Star Community." Woods Landing is officially recognized as a Gold Star Community, for the second time, maintaining verifiably high standards for the community.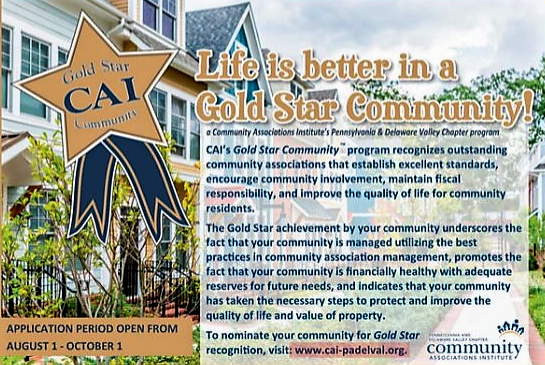 CAI's Gold Star Community Award gives deserving community associations the highest accolade for achieving success on numerous levels. It takes the blood, sweat, and tears from management and boards to fine tune financial stability, architectural control, rules enforcement, communication, community harmony, and curb appeal in a community. 

–Community Assets Magazine, July/August Edition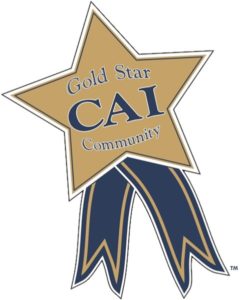 Proudly and professionally managed by Association Advisors NJ, Horizons at Woods Landing has received its second Gold Star Community Award. This award was presented by the Pennsylvania Delaware Valley Chapter of Community Associations Institute (CAI-PADELVAL). It is a very prestigious award. Awarded only to communities that follow a strict set of guidelines, Woods Landing is a proud recipient. The award represents proof of the ongoing hard work and dedication of the Executive Board and management on behalf of this 55+ active adult community.
What does it take to become a Gold Star Community?
Gold Star means being outstanding and excellent all the time. CAI has many points of "excellence" for Gold Star designation. Some of these include:
Successful community involvement and improved quality of life for residents
A recent reserve study and funding per the study
Demonstrated fiscal responsibility and a sound budget
Board members participate in programs, workshops and resources available through CAI.
Balanced budgets and proper reserve funding is the "norm" at Woods Landing. Active committees, a very involved Board and management team, social events, excursions and top notch amenities help achieve involvement and a better quality of life. Board members are very involved with, and serve on, CAI's activities and committees.
Association Advisors NJ is especially proud of Horizons at Woods Landing for receiving their Second Gold Star Community Award
Consistent and persistent hard work raised this community from the edge of bankruptcy to a thriving Gold Star Community. Without a doubt, Woods Landing has demonstrated its ability to both obtain and maintain the high standards of a Gold Star Community.
"On behalf of the Executive Board and the entire Woods Landing community, we are honored to once again receive this prestigious award. It is extremely satisfying to be recognized for all the dedication that goes into making our community such a wonderful place to live."

John Lovelock, Board President, Horizons at Woods Landing
For more information on Horizons at Woods Landing and their accomplishments, see these related blogs: Ghost Town to Board of the Year: An Educational Seminar at the CAI Conference & Expo; Horizons at Woods Landing – CAI Community Board of the Year Award; Ghost Town to Gold Star Community – Horizons at Woods Landing; Gold Star Community Award for Horizons at Woods Landing